William Lewis Pirie
M, #168, b. 5 January 1931, d. 25 January 1990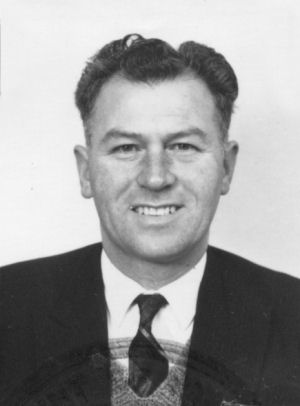 William Lewis Pirie (1931-1990)
     William was born at Portknockie, Banffshire, Scotland, on 5 January 1931. He was the son of
Alexander

Pirie
and
Margaret Helen

Cheyne
. William Lewis Pirie immigrated on 25 December 1968 to Perth, Western Australia, Australia.
1
William died on 25 January 1990 at Perth Royal Hospital, Perth, Western Australia, Australia, at age 59. His body was cremated after 25 January 1990 at Fremantle Cemetery Crematorium B, Carrington Street, Palmyra, Western Australia, Australia.
2
He was a carpenter and boatbuilder. William worked at the Herd & MacKenzie Shipyard in Buckie, mostly in the lofting shed. He was also a Buckie Further Education Evening School teacher in the shipbuilding drawing class.


In Australia, he worked as a boat designer at Dillingham Shipyards (WA) Pty Ltd in North Fremantle, Western Australia. See the article
Boat building at 28 Seafield Street, Portknockie
.
Citations
[S436] Commonwealth of Australia, Document of Identity, "Commonwealth of Australia, Australia House, London. Date 20/12/68. Document of Identity. This document which is valid for a single journey only is issued in lieu of a Passport to the Bearer and his wife/family for travel to Australia as Approved Migrants. Details shown below: Surname PIRIE, Christian Names WILLIAM LEWIS, Date of Birth 5th JAN 1931, Place of Birth PORTKNOCKIE, Married/Single/Widow/Widower SINGLE, Height 5 ft 7 ins, Colour of Eyes GREY, Colour of Hair BROWN, Visible Distinguishing Marks SCARS on KNEES, Photograph, Signature W L Pirie". Immigration stamp on reverse, "Department of Immigration, Perth Airport 88. Permitted on 25 Dec 1968 to enter Australia."
[S787] William Lewis Pirie, Database records of the Metropolitan Cemeteries Board's Cemetery Records System, WILLIAM LEWIS PIRIE, application number FC00018177, aged 59 years, date of death 25/01/1990, Suburb of SPEARWOOD. Grave/Memorial Location: Garden of Remembrance, Fremantle Cemetery, Crematorium B, section 10, position 0084.