There are a number of fishing boats of various types mentioned on Person Pages where the person may have been owner, skipper or crew member. Information may include photographs, census entries and newspaper articles. This index gives you the opportunity to locate this information from the name of the boat.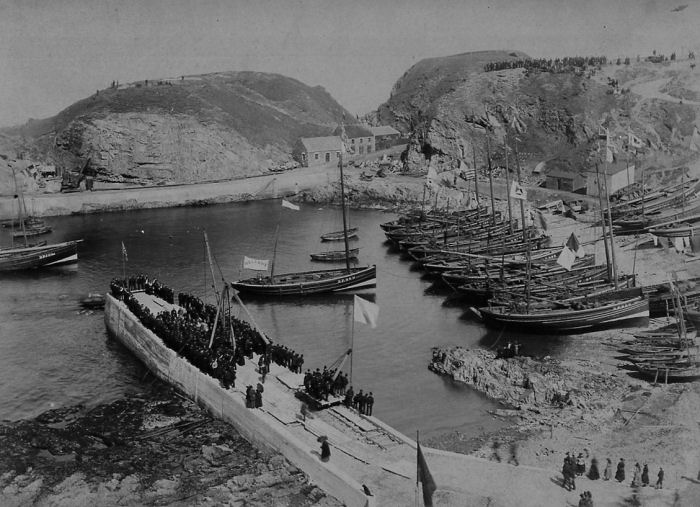 Lady Seafield laying the memorial stone at the newly constructed
Portknockie Harbour on 25 April 1890
Under each boat is a list of associated people with links, where appropriate, to their Person Pages. Whole crews are given where known.
| | | | |
| --- | --- | --- | --- |
| Amiable | Registration: BF 1533 | Scaffie fishing boat |   |
Boy Andrew
Registration: BF 592
Steam Drifter
 
 
In 1936, the 'Boy Andrew' was the first winner of the Prunier Herring Trophy with a catch of 231 cran of herring.
| | | | |
| --- | --- | --- | --- |
| Celosia | Registration: BF 1056 | Steam Drifter |   |
| | | | |
| --- | --- | --- | --- |
| Challenger | Registration not yet known | Zulu fishing boat (launched 1884) |   |
| | | | |
| --- | --- | --- | --- |
| Challenger | Registration: BF 194 | Zulu fishing boat (launched 1886) |   |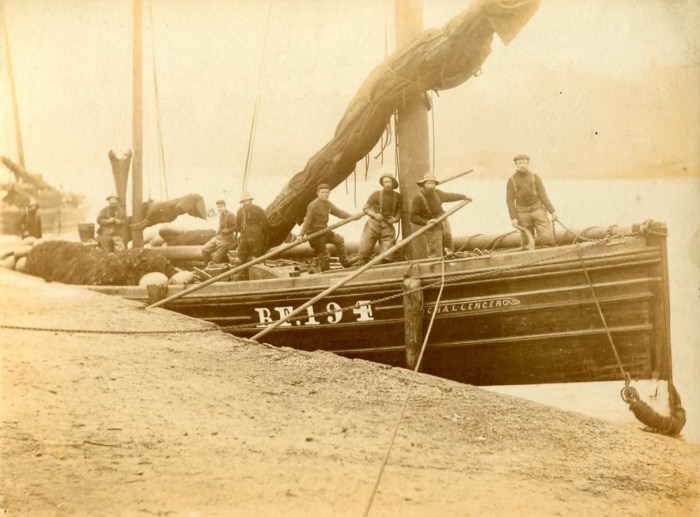 The Zulu fishing boat 'Challenger' BF 194
| | | | |
| --- | --- | --- | --- |
| Defiance | Registration: BF 460 | Zulu fishing boat |   |
| | | | |
| --- | --- | --- | --- |
| Eglantine | Registration: BF 860 | Steam Drifter |   |
Evangeline
Registration: BF 1952
Zulu fishing boat
 
 
(Hover your pointer over the photo below to identify the Evangeline.)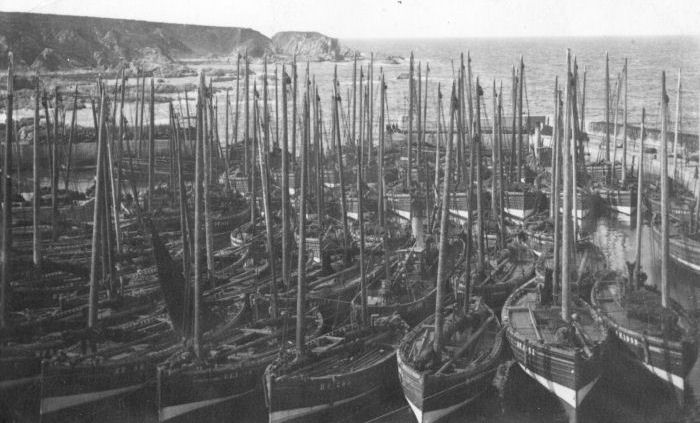 Zulu fishing boats in Portknockie Harbour (pre 1905)
| | | | |
| --- | --- | --- | --- |
| Fisher Lad | Registration: BF 204 | Steam Drifter |   |
| | | | |
| --- | --- | --- | --- |
| King Fisher | Registration: BF 720 | Zulu fishing boat |   |
| | | | |
| --- | --- | --- | --- |
| Kingfisher | Registration: BF 2073 | Zulu fishing boat |   |
| | | | |
| --- | --- | --- | --- |
| Lively | Registration: BF 262 | Steam Drifter |   |
| | | | |
| --- | --- | --- | --- |
| Maggie King | Registration: BF 236 | Zulu fishing boat |   |
| | | | |
| --- | --- | --- | --- |
| Orphir Land | Registration: BF 131 | Steam Drifter |   |
| | | | |
| --- | --- | --- | --- |
| Overfall | Registration: BF 590 | Steam Drifter |   |
| | | | |
| --- | --- | --- | --- |
| Provider | Registration not yet known | Motor fishing boat |   |
| | | | |
| --- | --- | --- | --- |
| Sickle | Registration: BF 353 | Seine-net motor boat |   |
| | | | |
| --- | --- | --- | --- |
|   | Alexander Mair | Deckhand and co-owner |   |
| | | | |
| --- | --- | --- | --- |
| Sincere | Registration: BF 152 | Steam Drifter |   |
| | | | |
| --- | --- | --- | --- |
| Tenpence | Registration: BF 1207 | Sail fishing boat |   |
| | | | |
| --- | --- | --- | --- |
| Topaz | Registration: BF 1822 | Zulu fishing boat (launched 1895) |   |
| | | | |
| --- | --- | --- | --- |
| Trident | Registration: BF 1049 | Steam Drifter |   |
| | | | |
| --- | --- | --- | --- |
| True Vine | Registration: BF 198 | Steam Drifter |   |
| | | | |
| --- | --- | --- | --- |
| Vigilant |   | Sail fishing boat |   |
| | | | |
| --- | --- | --- | --- |
| Zodiac | Registration: BF 846 | Steam Drifter (wood) |   |