David Mair
M, #3094, b. February 1929, d. 1 June 2010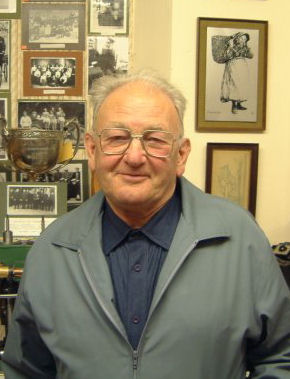 Davie Mair (1929-2010)
     David
Mair
was born in February 1929 at Findochty, Banffshire, Scotland.
1
He was the son of
William

Mair
and
Christina MacKay

Lyon
. His family was known by the tee-name of "Shavie". He was usually known as Davie Mair. David Mair was a fisherman. David died on 1 June 2010 at 2 Logie Drive, Portknockie, Moray, Scotland, at age 81.
2,3
His body was interred on 5 June 2010 at Portknockie, Moray, Scotland, at Hillhead Cemetery.
2,3

Citations
[S772] Robert Mair, Neil Pirie, Information kindly supplied by Robert Mair of Durham, England.
[S2482] Family Announcements, Deaths, Mair, The Press and Journal, "Deaths - MAIR
MAIR (Portknockie) Suddenly at his home, 2 Logie Drive, Portknockie, on Tuesday, June 1, 2010, David, aged 81 years, beloved husband of Lexy Ross, dear dad of Brenda, guid faither of Graeme and much loved granda of David and Nicol. Funeral service in Church of Scotland, Portknockie, on Saturday, June 5, at 11 a.m., thereafter to Hillhead Cemetery. All friends respectfully invited. Family flowers only please, but donations in lieu, if desired, may be given at church door, for Cullen and Deskford Heritage Society. No callers please."
[S4509] David Mair, Monumental inscription, "In loving memory of DAVID MAIR who died 1st June 2010 aged 81 Years, beloved Husband, dear Dad and Granda. Always Remembered. MAIR."